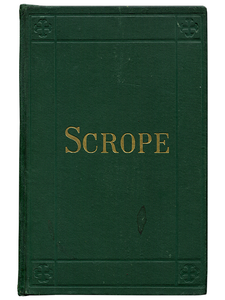 Scrope
Regular price $500.00 Sale
Frederic B[eecher]. Perkins. Scrope. Or, The Lost Library. A Novel of New York and Hartford. Boston: Roberts Brothers, 1874. First edition. Octavo (9 x 5.75 inches; 230 x 145 mm.). [2, blank], 4 (title-leaf and contents), [7]-278, [2, blank] pages (note: pages 5-6 not accounted for in pagination, but nothing appears to be missing, matches the copy digitized by Google). Text in two columns. Publisher's green cloth, spine and front board lettered in gilt, spine ruled in gilt, boards ruled in blind with blind-stamped corner pieces, recased and rebacked with the original spine laid down; all edges of the text block trimmed; brown coated endpapers, flyleaves (mismatched, one likely replaced at the time of recasing). Covers very gently rubbed with some mild soiling; small, dark splash to the front board; light wear to the ends of the original backstrip still visible. Text block very faintly tanned (as expected, still perfectly supple); scant trivial wear to the page edges; extensive pencil notations on the back of the front flyleaf, previous ownership gift inscription on the preliminary blank. Very good. Frequently cited as the earliest bibliomystery, including by Larry McMurty in his memoir Books: "Booked Up actually owned what was said to be the first bibliomystery, a mid-nineteenth-century book called Scrope" (p. 92). Lawrence Solomon's copy, with his bookplate laid in, sold by Swann, sale 2430, lot 214.
Written by the father of Charlotte Perkins Gilman, though he abandoned his family when his children were still young.
"In the summer of 1874 [Frederic Perkins] became Office Secretary in the Boston Public Library. He subsequently held the place of Register and Assistant Librarian, and Special Cataloguer, remaining in the library until the end of 1879..." (Obituary Record of Graduates of Yale University. 1899).
Hubin p. 315; Wright 1873 ("Of antiquarian books, book auctions, and subscription books"). (#10161).