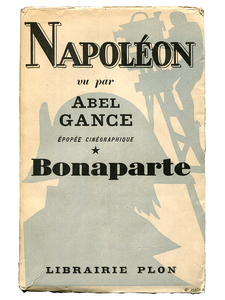 Napoleon
Regular price $1,250.00 Sale
Abel Gance. Napoleon vu par Abel Gance. Épopée cinégraphique en cinq époques. Première époque--Bonaparte. Paris: Librairie Plon, 1927. First edition, ordinary paper issue, early printing (6e mille). Association copy, inscribed by the author to film theorist David Bordwell: "G['d' inset]avid / Abel Gance / 12 Mars / 1980." Octavo (7.75 x 5 inches; 195 x 125 mm.). [1, blank], [1, justification], [2, half-title (deposit notice on verso)], [2, title-leaf (copyright on verso)], [2, homage (verso blank)], 408, [1, printing note], [3 blank] pages. Frontispiece and eight additional plates, featuring a total of thirty-four photographic illustrations, inserted throughout. Publisher's binding in original illustrated wrappers, printed in black and light grayish blue; edges of the text block untrimmed; no endpapers. Spine slightly askew with a few vertical creases; backstrip faintly tanned with a price sticker (dated 1953, the same pictured in Viejo) covering the original price at the base of the spine; spine ends lightly worn with a short (about three-quarters or one inch) tear at the bottom of the front joint, another tear, about the same length, extends diagonally into the front wrapper; edges lightly worn with a few minor nicks, corners crimped. Front hinge overextended, and partially separated at the top edge, but still secure; page edges very lightly ruffled. Very good. Text in French.
Gance attended the Midwest premiere of Kevin Brownlow's restoration of Napoleon at The Walker Art Center in Minneapolis, near Bordwell's home of Madison, on March 14, two days after the inscription (Richard Abel, French Cinema, Princeton: 1984. pp. 428-429).
"Napoleon is a masterpiece in the original sense of the word; containing every conceivable technique of cinema, it has served as a masterwork for the motion picture in Europe ever since" (Kevin Brownlow, The Parade's Gone By, Berkeley: 1968. p. 518).
Viejo, 12.2 ("one of the longest, most expensive, and most innovative works of the silent era"). (#10055).