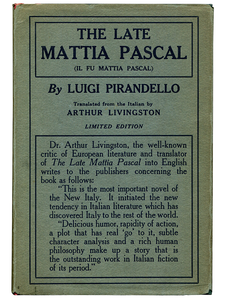 Late Mattia Pascal
Regular price $625.00 Sale
Luigi Pirandello. The Late Mattia Pascal. (Il fu Mattia Pascal). New York: E. P. Dutton & Company, [1923]. First U. S. edition, limited to 500 unnumbered copies. Octavo (8 x 5.625 inches; 205 x 140 mm.). xxii, [2, fly-title (verso blank)], 321, [7, blank] pages. Text partially unopened on the bottom edge. Publisher's two-color cloth with a red backstrip and dark greenish-blue boards, printed paper labels affixed to the front board and backstrip; top edge of the text block trimmed; plain endpapers. In original light blue-green dust jacket, printed in dark blue. Backstrip with a few shallow ripples; spine ends very softly pushed with only a hint of wear; corners barely rubbed; paper label on the front board a little foxed. Dust jacket spine panel faintly dulled; folds creased; edges with some mild, routine wear, including a few nicks at the spine ends or tiny chips at the fold edges. Near fine. Translated from the Italian by Arthur Livingston. Basis for the 1925 film directed by Marcel L'Herbier, Feu Mathias Pascal, a co-production of Films Albatros and L'Herbier's Cinégraphic, starring Ivan Mosjoukine, Lois Moran, Marcelle Pradot and Michel Simon in his film debut; features expressionistic sets by Alberto Cavalcanti.
"In Feu Mathias Pascal, [L'Herbier adapted] a modern novel into a slightly more conventional, more consistent work. At the time of its premiere at the Salle Marivaux, in September, 1925, L'Herbier's film was considered avant-garde by some simply because of its source... Pirandello's plays were then the rage of 'Tout-Paris,' thanks to the productions stages by Pitoëff and Dullin... Most film historians consider Feu Mathias Pascal, after El Dorado, L'Herbier's best realized film, and even Pirandello seems to have thought highly of it" (Richard Abel, French Cinema, pp. 415- 421).
Film as a Subversive Art, p. 57. (#10051).