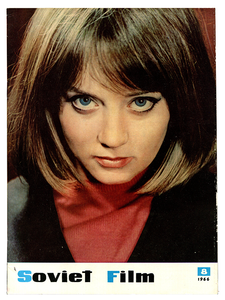 Soviet Film
Regular price $325.00 Sale
Soviet Film. An illustrated monthly magazine. Moscow: Sovexportfilm, 1966-1968. Twenty-four consecutive English-language issues, from February 1966 (no. 105) to January 1968 (no. 128), several with promotional or festival inserts. Quarto (11.25 x 8.25 inches; 285 x 210 mm.). 3-26 pages (note: the front wrappers are included in the pagination). Amply illustrated with full-page and in-text film stills and publicity photos. Publisher's saddle-stapled bindings in the original laminated wrappers. Some wrappers creased or with light bubbling to the laminate; occasional bruising along the fore-edge of some issues; light edgewear with mild bumping to corners or spine ends; December 1966 issue with a sizable hole worn in the center of the front wrapper (about one and half inches wide, with encompassed by a bruise). Generally very good.
The print propaganda wing of the "Brezhnev-Mosfilm" imperial film project... available in six languages: Russian, English, French, German, Spanish and Arabic. Mostly joking, but Soviet Film, published by the state's film import/export distributor, still serves as an illustrative supporting argument for the analogy (attributed to Jean-Luc Godard) that the commercial film industry under Brezhnev is hardly different to Paramount under Nixon. It is also a rich reference for a major national industry during a pivotal period in film history (concurrent with several global new-wave movements and the beginning of Jack Valenti's tenure as president of the MPAA).
Focuses on the major prestige films of the period, more Sergey Bondarchuk's War and Peace (recently restored and rereleased by Janus Films) and Aleksandr Zarkhi's Anna Karenina than Tarkovsky's Andrei Rublev, which receives passing mention as St. Andrei Passions, as well as major moments in Soviet (and sometimes Russian) film history, with featurettes on Ivan Mozzhukhin (to 1917 only), Leonid and Trauberg and a special retrospective in the July 1967 issue, commemorating the 50th anniversary of the October Revolution, highlighting the careers of Einstein, Vertov, Pudovkin and Dovzhenko, and mentioning the first Soviet talkie, The Road to Life. The January 1968 issue promotes international co-productions, including Miklos Jancso's Stars and Soldiers (the literal translation for The Red and the White). (#10033).