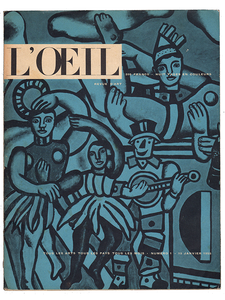 L'œil
Regular price $2,000.00 Sale
Rosamond Bernier and Georges Bernier. L'œil. Revue d'art mensuelle. Lausanne, Switzerland: Sedo S.A., 1955-1968. 168 consecutive issues (nos 1-168) in 152 volumes with an annual summer double issue (two in 1968 and a triple issue in 1967). Quarto (12.125 x 9.375 inches; 308 x 237 mm.). Various paginations, text typically in black and white with accents in a third color throughout. Amply illustrated with full-page and in-text illustrations; usually with four or six leaves in full-color, printed separately but included in the pagination. Publisher's saddle-stapled bindings in the original illustrated self-wrappers, except for the July-August and Noël issues (perfect bindings), for the first 27 months, transitioned to perfect bindings in April 1957. Routine minor wear with soft creases along the edges or at the corners, trivial rubbing or soiling; some shallow curling along the fore-edge; a few issues with slightly more extensive wear to spines or closed tears at the joints. No. 11 centerfold detached but present, a few other issues have anomalous minor defects, like a quarter-sized splash on the front wrapper or a two-inch closed tear on the title-leaf. Very good or better, generally quite nice. Housed by year in fourteen uniform dark blue quarter-leather over light gray cloth clamshell cases (some worn with chips at the crown or tears and foxing to cloth, still well-preserved on the whole).
Clearly published for a contemporary-minded Parisian readership (based on the ads), but L'œil was still an aggressive and omnivorous publication. Modern art's usual French suspects are well represented but so are figures and movements from throughout history and around the globe. "When [Rosamond Bernier] cofounded ... L'œil, which she ran from 1955 to 1970, its motto was 'All the arts, from all countries, and from all times...'" (Leslie Camhi, "The World's Most Glamorous Art Lecturer," Vogue, 2011).
Numerous articles focus on book history, particularly illuminated manuscripts, with contributions from Jean Longnon (curator at L'Institut de France) and from Jean Porcher (head conservator of the Manuscripts department at the Bnf) and others; illustrated prints from the hand-press period, including Hans Holbein and August Johann Rösel, are the subject of features and commonly supplement articles on other topics. Literary figures occasionally contributed too, among them Cyril Connolley, André Breton and Prix Goncourt winner André Pieyre de Mandiargues, the latter two on multiple occasions. Article topics range from Byzantine miniatures, old playing cards, Venetian engravers in the 18th century, a conversation between Jean-Luc Godard and Alain Jouffroy, Universal Limited Art Editions, the Beinecke Rare Book & Manuscript Library, in addition to your more conventional art magazine fare. Recurring featurettes on newly published art and artists books. Every January issue from 1960 to 1967 focuses on Italy, other recurring special issues were February (Architecture) and October (Decorative arts).
Shipped at cost (approximately 175 pounds). (#10030).