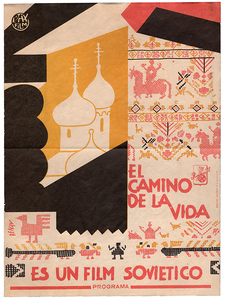 Road to Life
Regular price $150.00 Sale
[Nickolai Ekk (director); Anton Makarenko (original novel)]. El Camino de la vida. [Putyovka v zhizn or Road to Life]. [No place, but printed in Barcelona]: Pax Film, [circa 1936]. Original herald (programa) for a Catalan screening at Cinema Casa del Poble of the first Soviet all-talking film, on a program that includes Eterns Rivals (presumably the Mickey Mouse cartoon Mickey's Rival (Disney, 1936)) and La Badia Dels Tigres [Tiger Bay] (Wyndham Productions, 1934), an English Anna May-Wong vehicle; advertising the following week's screening Txepaiev [Chapaev] (Lenfilm, 1934), another Soviet film. Folio (14 x 10.375 inches; 357 x 263 mm.). Designed by Renav. Single sheet, printed both sides, the recto in black, red and brownish-yellow; folded horizontally. Edges with some trivial wear and very soft creasing, most visible along the upper edge, single tiny closed tear; faint smudging from printing process on the verso. Near fine. Rare.
"To this day, Ekk's place in film history is secured by having directed the first Soviet sound feature film, [Road to Life]. Unimpressed by the ongoing theoretical debates about the effects of sound on the artistic quality of cinema, Ekk applied the technical novelty with the intention of maximizing the effect of of each scene, trying out the entire range of opportunities... The film was released in 26 countries and won Ekk the Best Director award at the 1932 Venice Film Festival... [Road to Life] did provide persuasive arguments for the transformative power of Communist education and voluntary labor in youth communes" (Peter Rollberg, Historical Dictionary of Russian and Soviet Cinema, Lanham: 2016. p. 223).
A historically significant film, sure, but we're more interested in the context of the screening, a Communist film in or around the Republican stronghold of Catalonia during the Spanish Civil War. (#10018).